Campagnolo Zonda C17 Rear Wheel
CAM-WH17-ZOCR
---
• We price match!
Read our price match policy here
•
Free shipping
on all orders over $100.
• Ships from within Canada.
•
No customs duties - as much as $43.52 CAD for this product
. No import taxes, brokerage admin fees or other surprises.
---
Description
One of the best-selling and stiffest aluminum wheels of all time, the Zonda packs technologies that are far more sophisticated compared to what other brands offer for the same price.
With the latest update, the features of the Zonda™ wheel have been enhanced even further with a C17 rim that is compatible with wider, more comfortable clincher tires. The completely redesigned rim for the Zonda takes its design inspiration from the growing trend that sees the use of increasingly wider tires, with 25mm clinchers becoming the standard if not the new minimum sizing for road riding and racing. With this increased popularity of both 25mm and 28mm tires the wheel needs to be designed in a way to optimize the tire/wheel interface.
The new wider C17 rim ensures a more efficient shape of the tire, improving cornering grip and safety while reducing aerodynamic drag and rolling resistance. A seemingly small increase in width offers a surprisingly different riding experience, one that is sure to leave any cyclist pleasantly convinced that this change is for the best.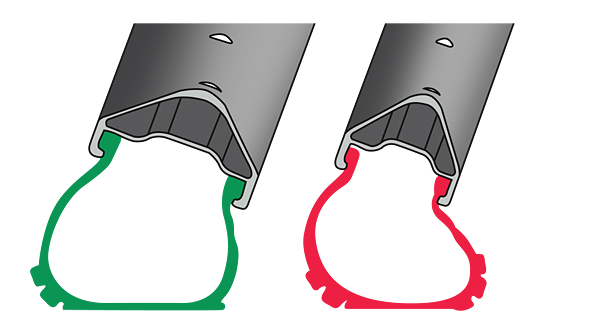 A wider tire and a wider rim together provide better handling.  The wider rim sets the foundation for the wider tire to better keep its shape 
The new C17 rim has been structurally optimized and ensures a surefooted grip on clincher tires as well as an even better braking feel when compared with previous versions.
A smaller hub diameter combined with the differentiated rim height (24/27mm) and the new self-locking nipples offer a front wheel that's smooth to steer and bump-resistant: racing on this model is a safe bet.
All of that, and the Zonda is also 10g lighter than the previous version.
Highlights:
Super stiff alloy rim, great for climbing out of the saddle
Named "

Best value alloy upgrade wheels"

 by

 

In The Know cycling blog
Differentiated Rim Height
Precision milling to eliminate excess material and weight where not needed
RDB™: Rim Dynamic Balance
MoMag™ Technology: Offers several advantages to the structural integrity of the wheel. The name derives from "Mounting Magnet" system, shortened to MoMag™. Results in a tire bed free of spoke holes, no need for rim tape. 
MEGA G3™ spoke pattern
Specifications
SPOKES
Spoke count:16 variable-section stainless-steel radial aero spokes (front) and 21 variable-section stainless-steel aero spokes (rear) with a 2:1 spoke ratio on the drive side
RDB
Steel spokes with aerodynamic profile
Anty-Rotation System
Self-locking nipples 
WEIGHT
Wheelset 1.540 kg
Front Wheel 678 g
Rear Wheel 862 g
COMPATIBILITY
Campagnolo FH Body 9/10/11
FH Body HG 9/10/11
HUB
Aluminium hub with black finish
Steel bearings
Hub edge: 100mm (front), 130mm (rear)
Aluminum oversize flange
Cup-and-cone bearing system
RIM
Profile height: 24-27/27-30 mm
Rim width: 22 mm
Rim material: Aluminium
Graphic colours: Bright Label
ASSEMBLY
The Zonda™ wheel is entirely hand-assembled by a specialised Campagnolo® technician and is checked in every tiny detail with electronic instrumentation. This ensures maximum performance and reliability for all Campagnolo® wheels.
COMES WITH
User manual
Quick Release wheel locks
---
We Also Recommend